https://mountsinaiparks.org/wp-content/uploads/2021/08/Grief-Support-Banner.jpg
Funeral Customs and Prayers
Honoring Life, Family, and Tradition
At Mount Sinai we understand the importance of honoring those who have passed. The guides below are provided to help guide you and your family through the process of planning the funeral, the rituals during the mourning period and at the anniversary of your loved one's death, their Yahrzeit.
Guide to Traditional Jewish Funeral Practices
Our Mount Sinai Guide to Traditional Jewish Funeral Practices is available for download.
Download Now
Jewish Memorial Prayers
There are numerous Jewish prayers and Psalms which are traditionally recited in remembrance of loved ones. Please click on the links below for some of the prayers which are included in the Mount Sinai Memorial Parks and Mortuaries Chapel Prayer Book.
The Unveiling Ceremony
This ceremony gathers us together at the gravesite to recall what is immortal and lasting in this life. We can talk about our loved one with a different spirit than the painful words of eulogy. We may talk of what we miss most in our loved one's life. We may celebrate what was triumphant and unique in this life. We may laugh at their humor, feel the warmth of their love, bring close their wisdom, recall the moments we most cherish, and cry at the loss. – Rabbi Edward Feinstein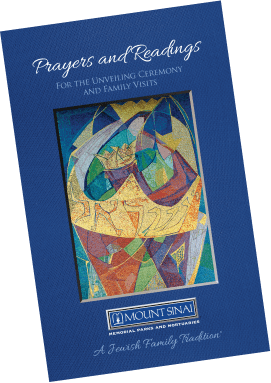 Prayers and Readings
Download our book of Prayers and Readings for the unveiling ceremony and family visits
Download Now
Online Yahrzeit Calendar
As a service to our community, Mount Sinai offers a service, called Digital Yahrzeit, where one can register to receive annual notifications of upcoming Yahrzeit anniversaries via email on either the Hebrew or English calendar. Digital Yahrzeit is a free service which we have made available to the public regardless of where loved ones are buried. To register for Digital Yahrzeit, please click here.
If you have additional questions about Jewish Funeral Planning or Customs, please visit our FAQs page.
Need help finding something specific?