https://mountsinaiparks.org/wp-content/uploads/2021/11/banner-waterfall-mount-sinai.jpg
The Comfort of Preparation: Planning Ahead for Peace of Mind
It can be hard to talk about end-of-life wishes, but having these conversations is an important first step to honoring your wishes and protecting your loved ones. Advance planning is a conversation that too many people put off, but it's a powerful act of self-care and kindness for your loved ones. Talking about it now can bring peace of mind for the future.

Put your preferences in writing – Creating a written plan of your funeral preferences gives your family the peace of mind that they're honoring your wishes. A precise and detailed document leaves no room for ambiguity, making it easier for your loved ones to plan a service that truly represents you. This simple act of planning ahead can provide them with much-needed solace during a challenging time.
Give the gift of time – Pre-planning takes the stress off your loved ones, who may be dealing with grief and other challenges presented when mourning your loss. When you've made choices ahead of time, your family can focus on honoring your memory, rather than getting bogged down in decision-making. It's a way to show them how much you care, and give them the time and space they need to grieve.
Create a financial asset – Establishing a funeral trust along with your pre-planning creates a financial safeguard for your family to lean on when the time comes. It helps alleviate the financial pressure associated with end-of-life expenses, allowing your family to focus on celebrating your life without worrying about the financial concerns. This planning ensures that your final wishes are taken care of, providing your family with financial security and peace of mind.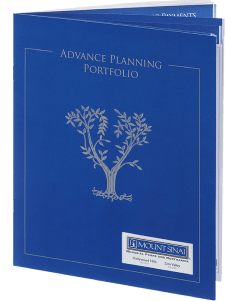 Please send me Mount Sinai's Advance Planning Guide
Our guide is filled with essential information and valuable guidelines that will make putting your house in order so much easier.
Click Here
Cemetery Property
Funeral Arrangements
As a full-service mortuary and cemetery, Mount Sinai not only takes care of the initial transport and preparation needs, it also works closely with each family to arrange a funeral that serves as a personalized memorial to your loved one.
For many, a funeral incorporating Jewish traditions serves as a comfort to all who gather. Jewish funerals may be held entirely at graveside, or in a chapel or synagogue. The service is often led by a rabbi but may be led by any Jewish individual well-versed in the prayers and traditions.
In addition to burial rituals according to halacha (Jewish law) for those who wish, we also work with families to incorporate more contemporary arrangements including music, webcasting, and a memorial website.
Learn More