Mount Sinai offers all families the full spectrum of Jewish traditions which relate to funeral planning.  Please note that if you are interested in Tahara, Sh'mira, Tachrichim and Tallit, described below, the costs for these services are not included as part of our standard mortuary services and additional charges will apply..  To see the full Mount Sinai price list, please click HERE.  
Ritual washing and gentle cleansing of the deceased.  Psalms are traditionally recited as part of the Tahara ritual. ($250)
Sh'mira is the ritual guarding of the person's body to ensure that the body is never left alone from death to burial.  Sh'mira is conducted by the Shomer (guardian) who recites Psalms chosen from the Book of Psalms, or readings from the Book of Lamentations, and engages in other study. while staying with the body. ($17.50 per hour.  - 12 hour minimum)
According to Jewish tradition, a deceased's body is dressed in plain white Tachrichim (traditional shrouds). These garments are hand-made from linen or muslin and are entirely stitched by hand, without tying knots.  (Cotton - $130 / Pure Linen - Imported $295)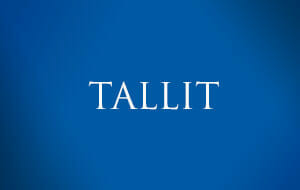 The Tallit is the fringed shawl traditionally worn by religious Jewish men. The Tallit has special twined and knotted fringes known as tzitzit attached to its four corners. Out of respect to Jewish tradition, m($40)
The Jewish traditions described below are all included as in our standard mortuary services. 

Your Memorial Counselor will inquire which of these items/customs you would like to incorporate in the funeral service. 
Traditionally, mourners make a tear (k'riah קריעה) in their outer garment before the funeral. Today, many mourners chose to wear a special ribbon so that they do not have to throw away good clothing.  
Mount Sinai will provide K'riah ribbons to all mourners.  The rabbi will assist you in tearing the ribbon correctly. The tear should be on the left side for a parent (over the heart and clearly visible) and on the right side for brothers, sisters (including half-brothers and half-sisters), children and spouses (and does not need to be visible). The k'riah ribbon is traditionally worn during the seven days of shiva (but not on Shabbat and festival days). 
The traditional skullcap worn by Jewish men during prayer and religious study. Many Jewish men are buried wearing a Yarmulke as a symbol of Jewish tradition.  Yarmulkes will also be available for all men attending the funeral service.
Mount Sinai provides all families with a seven day Yahrzeit candle which is traditionally lit upon return from the cemetery. The candle will burn until the completion of the traditional seven day mourning period.
Prior to burial, Mount Sinai will include a small packet filled with earth from Mount Zion in Israel to represent the Holy Land's special powers, as referenced in the Talmud.
Although it is a Jewish tradition to witness the casket being lowered into the grave, many families are not comfortable doing so. Therefore, your Memorial Counselor will always inquire whether or not your family would like to be present as the casket is lowered in the grave.
A Minyan kit is offered to all families to use during the observance of Shiva.  The kit includes prayer books and Yarmulkes for those who will participate in the daily services.