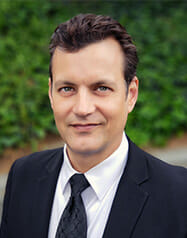 Joe Henson has been serving families at Mount Sinai since 1998, and in 2019 was promoted to Director of Funeral Operations where he oversees Mount Sinai's Memorial Counseling, Family Service and Mortuary Departments.  As a compassionate and detail-oriented representative of the funeral service profession, one of Joe's top priorities is to ensure that all loved ones in Mount Sinai's care be treated with respect, sanctity and honor.
During his 20+years at Mount Sinai, Joe has worked in the mortuary preparation room as a swing shift leader (1998-2000), as a member of the inaugural core team at our Simi Valley location (2000-2007) and as the Mortuary Department Manager from 2007-2019. Joe also holds a Funeral Directors and Embalmers license.
Prior to joining Mount Sinai, Joe, a Southern California native, served in the U.S. Navy and is a graduate of the Mortuary Science Program from Cypress College. He has also worked for Mortuaries and cemeteries throughout the country.